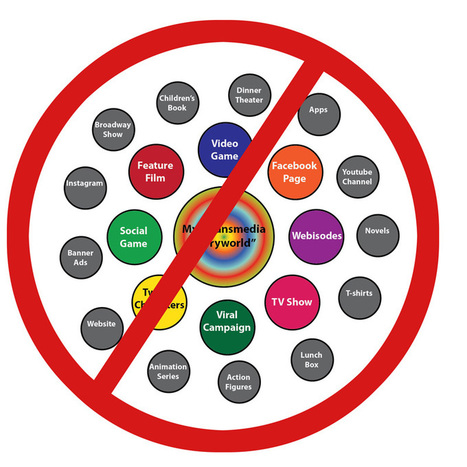 Friends, it's time to get serious. The ongoing debate between (intelligent, well-meaning) people about what "transmedia" means and even whether defining the word matters at all, is killing our common cause....
...Second, we need a clearly defined "curtain" for transmedia stories. Every entertainment format in history has had a very well defined way to enter a story, a comfortable way to enjoy it, and an easy way to exit.
Blurring the lines between reality and fiction is awesome for a small number of extreme people who like that sort of thing, but it will never, ever, be mainstream.
My colleagues and I used to make alternate reality games, which were the storytelling equivalent of being dropped naked by parachute into the rainforest. But what we eventually realized is that, like an amusement park ride, in order for sane people to participate in intense experiences, they need to be able to see what it is, know how long it's going to last, and know that you have to be THIS TALL to ride it...."