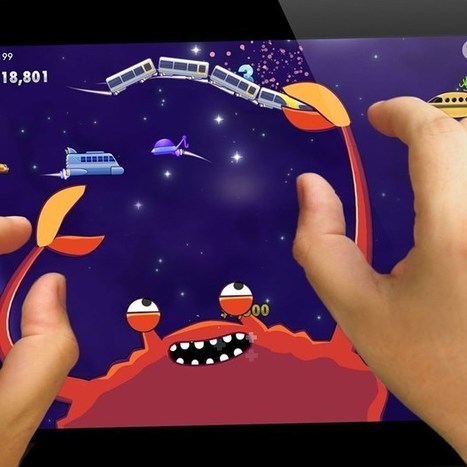 "Pinch spaceships and look stupid in public with Crabitron, the game that lets you play as a giant crab in outer space.
In the iPad game Crabitron, you are a giant crab in outer space. Naturally, you need to eat as many people as possible by deftly crushing their spaceships with your invincible claws. For some reason, eating people yields money, which giant space crabs apparently have a need for.
You'll accomplish this by pretending that two of your fingers on each hand are the claws. Dragging and squeezing on the screen manipulates the giant crab's stretchy arms.
It's immediately obvious, and incredibly hilarious. The game itself is little more than a clever twist on a classic 2D shoot-'em-ups like Galaga, but the novelty of controlling a crazy-eyed crab with finger-pincers is wonderful, silly fun...."