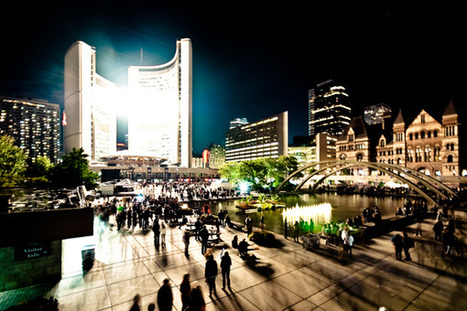 Questioning utopian desires, Siobhan O'Flynn looks at Toronto's Nuit Blanche in relation to the impact that social media has on participants' ability to share and record their experiences, to self-organise, and to engage in the production of a transformative, real world event...
The concept of psychogeography is important to O'Flynn's analysis. A term conceived by Guy Debord, it is a method of encountering a city through wandering and play. The aim is to achieve a heightened awareness of the particular emotional and psychological effects of a given urban environment. O'Flynn understands Nuit Blanche on one level as a "hybridization of physical space with digital content" and so, in a sense, participants are enacting a quasi-digital derive that significantly augments their real world experience. She states:
Nuit Blanche's transformational spaces are simultaneously unfamiliar and often magical while remaining emphatically "here" and this duality opens opportunities for new, unexpected modes of engagement with familiar places as spaces of play, performance and interaction....