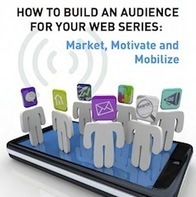 What is this workshop about?
"Market, Motivate, Mobilize" is a two-day workshop created to help producers and marketing managers to market for today and prepare for tomorrow by adopting a "digital first" approach to finding, building and maintaining an engaged, powerful and profitable audience. "Market, Motivate, Mobilize" will introduce concepts, ideas and best practices and provide you with an introduction to digital marketing and a solid foundation on which to build your own campaigns. Based on the IPF guide, "How to Build an Audience for your Web Series: Market, Motivate & Mobilize", the workshop features both instructional and hands-on learning opportunities. You will:
- Understand the relationship between audience, content, channels and tactics
- Discover where people are consuming screen-based content and learn how to apply best practices to marketing your content. Draw on digital marketing strategies — content, search, social and publicity/pr – that help your audience find you online
- Increase your reach by utilizing traditional tactics – advertising, promotions, live events and direct marketing
- Evaluate your results in real time to adjust your market campaigns.
- Optional one-on-one meetings with Julie Giles to review your specific campaign strategies...