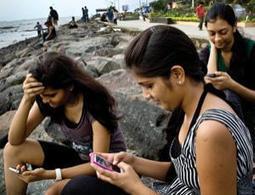 An experiment by Microsoft Research aims to see how people will interact to solve a puzzle that relies on teamwork and cellphones.
ONLINE social networks have helped spur protest movements and put politicians in office. But the power of these networks is built on easy access to platforms like Facebook and Twitter. Now researchers at Microsoft are about to test the power of social technologies in a tougher setting: India, where just a tenth of the population has internet access.
Competitors in the Whodunit? Challenge will leverage the power of mobile phones and old-fashioned, face-to-face contact to solve a puzzle posed by a team based at Microsoft Research India in Bangalore. At stake is a prize of 100,000 rupees, or almost US$2,000, about twice the country's average annual income. The challenge will show us how people in developing countries use technology to collaborate across long distances and in time-critical situations.
The competition, beginning on 1 February, revolves around a fictional event and a set of five clues - the who, what, where, when and why - that describe the event. To obtain a clue, competitors have to call a number provided by Microsoft and hang up after a single ring. This practice, which tells the recipient they have missed a call, is commonly used in India as a means of prompting someone to ring back....