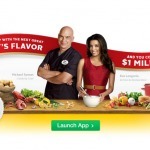 Lay's Potato Chips has departed from traditional crowdsourcing, using social media to engage with fans for its recently launched contest,...
Crowdsourcing once relied on mass media. Today, social media gives it more reach and makes engaging with it more personal, which is a deep departure from its beginnings. At least that's what Frito-Lay has found with the company's recently launched contest for Lay's Potato Chips, "Do Us a Flavor."
The contest invites the brand's Facebook fans to submit flavor ideas for the next new potato chip, with finalists announced in February. The winner will receive either $1 million in grand prize money or 1 percent of the winning flavor's 2013 net sales. To launch the contest, Lay's created its first-ever pop-up store in Times Square, where fans could sample the brand's 20 existing flavors. The brand is also using Eva Longoria and celebrity chef Michael Symon as the spokespeople to encourage fans to submit their ideas.