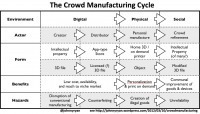 Long after his death Isaac Newton's unpublished papers finally revealed a hidden obsession with alchemy. Newton was interested in particular with the Philosopher's Stone, a proto-scientific cum mystical experiment reputed to transmutate one material into another. The Crown feared that the alchemists would devalue the coinage if they did one day manage to make gold coins out of lead. Newton, as Warden and Master of the Royal Mint, kept his alchemist musings to himself. Those who did not risked imprisonment and the hangman's noose. The Crown knew then what many businesses are about to learn: even gold looses its value if it can be easily reproduced. This is precisely what is about to happen as a result of 3D printing.
A "crowd manufacturing cycle" is emerging that will disrupt the conventional chain of design, production, and distribution. 3D printing will do to many categories of products what MP3 did to music – but it will also do to the design and distribution of objects what Web 2.0 did to information. The emerging consumer and on-demand use of 3D printers will dramatically and irrevocably disrupt retail, design and distribution. But – crucially – some types of product will be immune to disruption.
First, a recap on what 3D printing is
3D printers are getting cheaper and better....