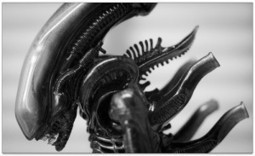 Storytelling in games is very different than in film. Alyssa Rosenberg flags a fascinating interview over at io9 with Prometheus screenwriter Jon Spaihts.
"Storytelling in games has matured tremendously in the past decade," Spaihts tells io9′s Charlie Jane Anders. "Some really great work has been done. But the design requirements are totally different, almost the opposite of filmic storytelling.
"The central character of a game is most often a cipher – an avatar into which the player projects himself or herself. The story has to have a looseness to accommodate the player's choices. This choose-your-own adventure quality is a challenge for storytellers and, I fear, militates against art.
"A filmmaker is trying to make you look at something a certain way – almost to force an experience on you. Think of the legendary directors, whose perspective is the soul of their art. It's the opposite of a sandbox world. It's a mind-meld with a particular visionary..."