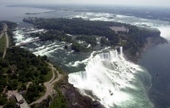 Gov. Cuomo Wants You — to visit the home of Uncle Sam in upstate Troy, N.Y.
Or head to Niagara Falls, the wineries along the Finger Lakes or even the Cheese Museum in rural Herkimer County.

Cuomo is restructuring the state's Division of Tourism to get more people from the city and overseas to visit upstate, the Daily News has learned.