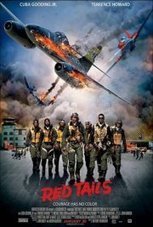 HAVING A RED TAILS OPENING WEEKEND EVENT. WANT IT LISTED HIT WCNTV AND URBAN LYFESTYLES MAGAZINE AND LET US KNOW. LEAVE YOUR COMMENTS ABOUT THE FILM AT MY CNN IREPORT PAGE:
CNN I REPORTER MEETUP HOST NATIONAL RED TAILS OPENING WEEKEND PARTIES TO ROCK THE VOTE & ROCK THE BOX OFFICEhttp://ireport.cnn.com/docs/DOC-730557
Private Viewing of "Red Tails", a movie about the Tuskegee Airmen and starring Terrance Howard. This movie premiere is jointly sponsored by the Alpha Phi Alpha Fraternity Inc; Kappa Delta Lambda chapter and the Alpha Kappa Alpha Sorority Inc; Delta Tau Omega chapter. A representative of the original Tuskegee Airmen will be in attendance and will participate in a discussion afterwards. Cost: $10. Either call 517-712-5242 or send an email to kdlaphia@gmail.com (Alpha-KDL)) or to akadtofundraising@gmail.com (AKA-DTO) to purchase your ticket!