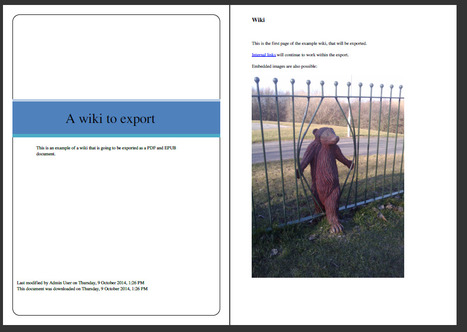 This plugin adds the ability to export Moodle wikis as either PDFs or epub documents.
It was developed by Davo Smith of Synergy Learning, on behalf of the Judicial Institute for Scotland
Usage
Once the plugin is installed, you can visit a wiki, then click on the new 'Export as epub' or 'Export as PDF' links that appear in the activity administration block (with javascript enabled, similar links are inserted on the top-right corner of the page).
Users with the 'mod/wiki:managewiki' capability also get a 'Sort pages for export' link, that allows them to choose the order in which pages will appear in the export.
There is an additional global setting which allows a copy of any wikis on the site to be sent (as a PDF) to a given email address, whenever they are updated (note, this will not export all wikis on the site the first time it is configured, it only sends those that have been updated since the email address was first entered).
Via
Miloš Bajčetić
,
Juergen Wagner
,
Dorian Love
,
Rui Guimarães Lima