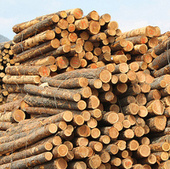 Harvests of timber in Europe have remained practically unchanged for three years at around 370 million m3 annually, according to the UNECE.
A closer look at the timber harvest trends for Central Europe the past ten years reveals the interesting development that the average annual harvests in the "Central West" region (Austria, Germany, Italy and Switzerland) were 15 % higher in the five years between 2003 through 2007 than between 2008 and 2012. During the same period, the timber removals in the "Central East" region (Bosnia-Herzegovina, Croatia, Czech Republic, Hungary, Poland, Serbia, Slovakia and Slovenia) increased four percent, and this region now harvests more than the "Central West", a reversal from the historical position when more timber was removed in the western countries, according to the Wood Resource Quarterly.
Not only has log production fallen in the "Central West" region the past five years, but so has log consumption by the forest industry, which was down on average nine percent during the 2008-2012 period as compared to 2003-2007. In the "Central East", log consumption fell only two percent during the same time period.