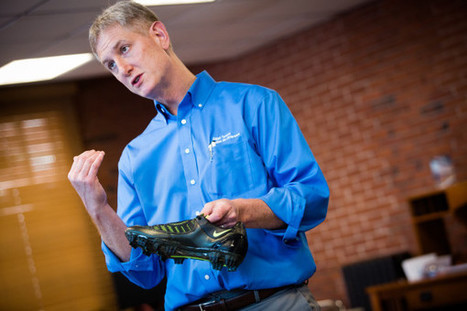 Sappi Paper's mill in Westbrook has remained standing in the 21st century by learning to let go. The mill staked its future on paper with the key of not sticking to things, allowing paper-backed patterns to be pressed into synthetic materials, laminate flooring, leather and other products.
The mill has shed thousands of jobs since hitting peak employment levels in the 1950s but carved a path to profitability through a spate of tough times and recent closures in the industry.
***
During the early 2000s, the Westbrook mill completed a long shift away from publishing markets, converting lower efficiency, turn-of-the-century paper machines to what's called release paper, research that began when the mill was still in the hands of S.D. Warren Co. That paper, coated with various textures, can be used to create a range of products, including patterned car interiors, flooring, shoes and soccer balls.
***
Mike Standel, the mill's managing director, said the company's market research focuses now on forecasting quickly changing fashion trends. Those quick changes, he said, give it an advantage in competing with other methods for pressing textures into a material, such as using stainless steel belts or plates. "It's always important to be first, and we can provide something unique that can let our customers have exclusivity or be first to market," Standel said.
The Westbrook mill produces about 40 percent of the global market for release paper, according to Standel, who said Europe and China are key markets in the business for which about 92 percent of its product is exported.