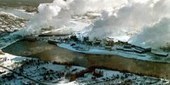 Northern Minnesota's wood products industry woes continued in a big way today when Boise Inc. announced it will close two of its four paper machines at its International Falls mill resulting in 300 jobs being permanently eliminated.
***
Boise will retain about 580 employees at the mill running two paper machines producing uncoated white office paper and producing the pulp that's made into paper, Virginia Aulin, Boise vice president of human resources and corporate affairs, told the News Tribune this morning.
"We will no longer have to buy pulp to make our paper in International Falls," Aulin said.
***
Earlier this year, Wisconsin-based Wausau Paper says it is closing its Brainerd mill and eliminating 134 jobs because of stiff global competition in overseas markets where the company was trying to expand.
Last August, Georgia-Pacific announced it would permanently close its Duluth hardboard plant, putting 141 employees out of work.
Since 2008, three oriented strand board manufacturing mills closed in Grand Rapids, Bemidji and Cook with a loss of hundreds of jobs. In Deerwood, 158 jobs were lost when Weyerhaeuser closed its strand lumber plant. And last year the Verso Paper Mill in Sartell closed for good after a deadly Memorial Day explosion and fire. It had already shed 175 jobs in late 2011 and the closure meant 260 more layoffs.