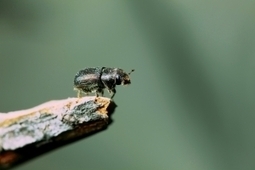 The mountain pine beetle is about a third of an inch long and probably not endowed with advanced powers of financial analysis, but it has something important to teach investors about how environmental risk is changing.
In the past decade, the beetle has killed millions of trees from New Mexico to northern Canada. For investors in North American timber, the obvious response to an outbreak in one place would be to diversify into assets unaffected in other areas – but the beetle has spread so fast that such a strategy was doomed to failure.
What the beetle is telling investors is to stop viewing environmental risk in terms of isolated events.
There is increasing evidence that extreme weather, resulting in floods in the Somerset Levels or drought in California, is posing systemic financial risk, not just affecting a single asset at one time but large swathes of portfolios over time. Similarly, government initiatives to reduce environmental impact, for example by developing regulations to limit pollution, can also create widespread financial risk that is impossible to mitigate. Asset owners should pay more attention to these developments, improving their analysis and seeking out suitable hedges or mitigation steps.