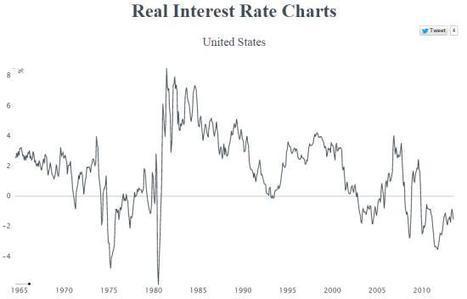 The folks at Gresham's Law just published a nifty interactive chart of real (i.e., inflation-adjusted) interest rates since the 1960s that explains a lot about today's world.
***
Since the 2008 crisis the real rate of interest has been mostly negative, which accounts for the global boom in real assets. For someone with access to borrowed money it now makes sense to use it to buy fine art, trophy real estate, farmland, and other things that governments can't create more of. All of these things are in raging bull markets, implying that the smart money is responding to negative interest rates exactly as you'd expect.
So what now? History as depicted here says the borrowing binge/asset bubble continues until real rates spike, either because nominal rates soar or inflation plummets. It also implies that the phase change, when it comes, will be sudden. Looking at 1975, 1980 and the volatility since 2007, it's clear that a financial system based on fiat currencies is inherently unstable — i.e., incapable of finding a stable price for money. So the least likely scenario is a return to a nice, placid world of "normal" interest rates.