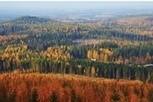 FIM Services, the UK-based forestry and renewable energy investment manager, has launched its first institutional fund, the FIM UK Timberland Fund, with an initial target of £100m (€125m) to be raised from a number of cornerstone investors, including pension funds worldwide.
The fund is intended to give institutions the chance to invest in high-quality, well-located commercial plantations, taking advantage of current opportunities FIM has in the pipeline.
Anthony Crosbie Dawson, forestry portfolio manager at FIM, said timberland was an attractive asset for pension funds to consider because it had no correlation with equities, and served as a hedge against inflation.
***
Crosbie Dawson said the fund would select high-yield assets well located for timber markets, with good infrastructure and unconstrained access.
Assets will also be selected on their potential for 'higher and better use' (HBU), particularly in relation to wind farms.
***
FIM will acquire commercial plantations within the UK, which consist primarily of Sitka spruce – the fastest-growing conifer in the UK – and with the largest number of end-uses. Plantations will be located mainly in Scotland and Wales, the wettest parts of the UK, where the trees grow the quickest.
***
FIM, which has more than £500m under management, also runs two funds for retail investors – FIM Forest Fund I and FIM Sustainable Timber and Energy – with £63m and £99m, respectively, under management.