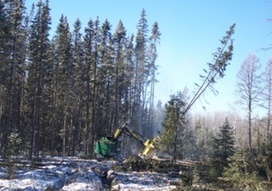 Over the last 10-15 years, the forest products industry has migrated away from the vertical integration model. This trend has created a number of challenges within the larger market that have also been more pronounced in the Lake States. Consider the situation in the region as we head into 2Q2016.

Regional paper mills are no longer integrated, which means they no longer own the timberlands that provided 10-30 percent of their raw material requirements. Initially, these mills sold much of their land to Real Estate Investment Trusts (REIT), which operate with the philosophy of generating annual income through the sale of both land and timber.
***
REITs are now selling land to Timber Investment Management Organizations (TIMO), many of which operate with a philosophy of generating long-term investment income; financial gain is realized at the time the land and timber are sold, which could be years or decades. Timber is harvested less frequently under this structure, which limits the regional timber supply.
***
As the forest ownership dynamic has changed, many FSAs have expired, and much of the available wood supply from previously-owned paper mill land is no longer as available from TIMOs, as they are structured to allow more valuable timber to mature on the stump before harvesting. There is very limited, if any, opportunity to change TIMO management structure and objectives for land ownership to generate more timber from these lands.

With over 50% in NIPF timberland ownership arrangements, wood from these lands is critical to the regional supply. However, timber from the existing, fractured NIPF structure requires more sales and involves more landowners to generate the same amount of available wood.