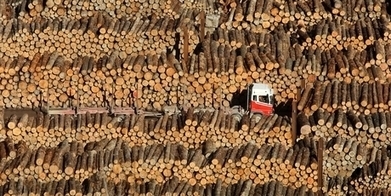 Labour's outspoken economic development spokesman Shane Jones has lashed out at "arrogant" foreign owners of New Zealand's forests, saying their pursuit of the highest possible profits comes at the expense of local workers, communities and the wood processing industry.
Jones' comments come as he and industry figures ring alarm bells that local processors are being priced out of the log market as skyrocketing Chinese demand drives prices higher.
"There's a hell of a lot of fear now in the wood processing sector that they cannot secure adequate contracts that give them affordable and durable supplies," Jones said. "It's got to the point that the viability of their businesses is being threatened.
***
He pointed the finger at the foreign-owned timber management organisations (timos) which own much of New Zealand's forests including US company Hancock.
"The timos, in particular Hancock, have become arrogant," he said. "They're flicking away all the domestic New Zealand producers and they're chasing the speculative Asian market."
***
New Zealand exported a record 3 million cubic metres of logs to China in the September quarter, a 40 per cent increase on the same period a year earlier and log prices approached record highs during the period.
***
Hancock did not return the Herald's calls but Forest Owners Association president Paul Nicholls said owners were looking for the best return on their investment.
"Most forest owners sell somewhere between half and two thirds of their product to domestic mills but there's always competition for those logs from overseas buyers, so it does come down to a matter of economics, which markets the domestic mills are selling into and what they can afford to pay for logs."