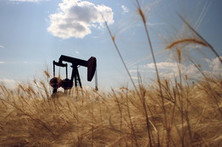 Forestar Group boasts a rich portfolio of assets and businesses, including 136,000 acres of real estate, mostly in Texas; 752,000 acres of oil and gas properties; 1.5 million acres of water rights; and 275,000 acres of timberland. Yet the company trades for just a fraction of its net asset value, as investors don't quite know what to make of this diverse mix.
Peter Martin, an analyst at JMP Securities, believes the shares are trading at a 40% discount to net asset value, which he puts at $18 to $43 a share. Forestar's shares (ticker: FOR) closed on Friday at $17.56, or 1.2 times book value. The midpoint of Martin's range is $30 a share.
***
A legacy timber business in Georgia produces fiber that Forestar sells primarily to Temple-Inland, its previous owner. Forestar was spun off from Temple Inland, now part of International Paper (IP), in 2007.