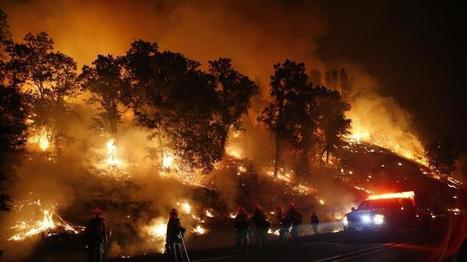 Two deadly Northern California wildfires that scorched more than 140,000 acres, ravaged homes and devoured firefighting resources in September have amounted to at least $1 billion in insured losses so far, according to a state insurance department report.
The Valley and Butte fires took a devastating toll on the region as flames chewed through homes, farms, vehicles and personal belongings, and eventually gave rise to a large number of claims, the California Department of Insurance reported. The preliminary $1 billion loss estimate did not include damage to roads and utilities, so the total figure for insured losses is likely to grow.
***
In Lake, Napa and Sonoma counties, the Valley fire consumed 1,958 structures, resulting in $700 million in insured losses. Because the blaze destroyed many homes and buildings, it became the third most damaging wildfire in California's history.
Four people were killed during the 76,067-acre blaze, which started Sept. 12 in southern Lake County and lasted a little more than a month.
The 70,868-acre Butte fire ran through grasslands and timber in California's Gold Country – Amador and Calaveras counties. The blaze is the seventh most destructive wildfire in the state's history, destroying 818 structures and resulting in $300 million in insured losses. Two deaths were attributed to the Butte fire.