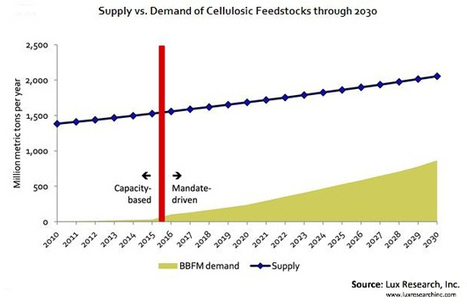 Biofuel mandates and growth in the biochemicals industry are expected to triple demand for biomass by 2030, placing pressure on available feedstocks, according to a report by Lux Research.
The report, "Finding Feedstocks for the Bio-Based Fuels and Chemicals of Today and 2030," said today biofuels and biochemicals need more than a billion metric tons of biomass material each year to replace about three percent of total petroleum products. The report predicts that figure will skyrocket to 3.7 billion mt of biomass needed annually by 2030.
Biofuels mandates, which require large masses of sugars, cellulosic biomass and waste feedstocks, will cause several regions will encounter major stress on available biomass, the report said. For instance, the EPA is proposing a 62 percent increase in the amount of cellulosic biofuels that refiners must blend into their gasoline and diesel, despite a federal court's decision last week to strike down its 2012 standard for the fuel.