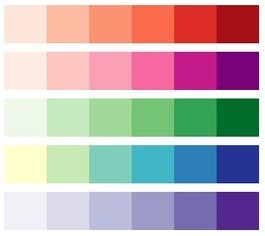 As some of you pointed out in the comments of my last post, taking equidistant colors in the HSV color space is no solution for finding a set of colors that are perceived as equidistant. This post describes what's wrong with HSV and what we can do about this. Note that since this post contains interactive elements built on the latest web technologies, you might need a modern browser to get the most out of it.
What's so wrong with HSV?
Well, the main problem is that the value component of HSV is just a measure for the physical lightness of color, but not for the perceived brightness. Thus, fully saturated yellow has the same "value" as blue. The same is true for the HSL color space. Here is a set of six colors of the same value to demonstrate this effect. The second row shows how the colors look after converting to grayscale via Photoshop.....
Via
Elpidio I F Filho