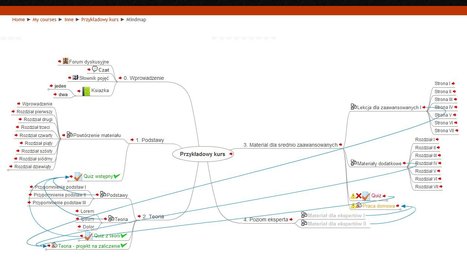 WIth MindMap Course, Moodle becomes a first LMS which allows students for using courses through interactive, personalized mindmap. Additionally, it provides features unavailable in standard Moodle so far, which are: 1) graphical presentation of conditional dependencies and 2) distinction of modules where student have problems (and which are near deadline). Map files can be downloaded, they are compatible with Freemind software.
Map is interactive. Users can enter course elements (like sections, modules, lesson and book pages) directly from map. Elements which were not visited by user are distincted with bold font. There are displayed arrows, which describe conditional activity dependencies. Modules, where a particular student has problems, and available time is running out, are appropriately highligthted as well.
Map files can be downloaded and opened in Freemind software, what gives teachers additional features. For example, to create a task for students teacher downloads a map and change it, for example move some elements, add invalid elements, create (or not) a list with elements possible for using. Students task will be getting map to the correct content.
This app requires Java and Flash to work.
Via
Miloš Bajčetić
,
Marcelo Varela