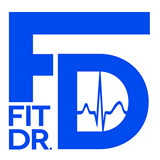 The latest from Dr. Stuart Fischer (@TheFitDr). Internist, former emergency room attending physician, respected author, & media health expert, I worked with Dr. Atkins for 8 yrs as his practice associate.
ABOUT DR. FISCHER
I'm a physician/author/radio host whose career has included an Internal Medicine residency at Maimonides Medical Center, a four-year stint as an Attending Physician in the emergency room of Cabrini Medical Center, and nine years as an associate of Dr. Robert Atkins.
I have an extensive history of media appearances including CNN This Morning, CBS: The Early Show, Inside Edition, "Eyewitness News" (ABC), ESPN, Geraldo, Fox and Friends, Montel Williams, Good Day New York, Daily Buzz, Access Hollywood, Better TV, Westwood One etc. and interviews with The New York Times, The Sunday Times of London, W Magazine, The New York Post (including Page Six), USA Today, eHarmony, AOL, Prevention, Star Magazine, Weekly Reader, WebMD, Redbook, Glamour, New York Magazine, and Opera News.
I graduated from Yale University with a B.A. in psychology.