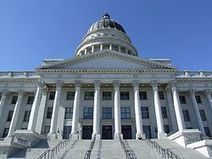 The governor of Utah has sent a letter to two of the most powerful members of Congress to insist that online gaming not be legalized nationwide. Card Player received a copy of the letter dated April 4, 2012.
Dear Speaker Boehner and Majority Leader Reid:
I am writing to ask you to oppose current proposals to federalize internet poker and casino gambling. Gaming issues traditionally have been regulated by state governments. It is a matter of both constitutional and social preference that matters relating to gaming be regulated by states for the benefit of their residents. The recent U.S. Department of Justice ruling clarifies and reaffirms that this is a matter of state authority.
Specifically, the residents of the State of Utah have always been very clear about our views that allowing gambling on the internet or other venues is not in Utah's best interests. In the case of interstate online poker, if Congress were to make it legal, it would be against the wishes of the majority of Utahns and encroach on our 10th Amendment rights, as well as our historical and long-standing position against gaming and wagering. Indeed, the people of Utah included a prohibition on gambling in Article VI, Section 27 of the Utah Constitution. Federal legislation and regulation in this area must be resisted.
I appreciate your careful and positive consideration of our reviews on this very important issue.
Sincerely,
Gary R. Herbert
Governor of Utah