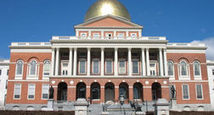 The Boston Herald is reporting that a Massachusetts lawmaker wants the state to adopt a plan that would grant three intrastate poker licenses.
Massachusetts recently authorized the construction of brick-and-mortar casinos, but it hasn't yet been decided who will win a license bid.
Each Internet poker license would reportedly have a minimum price tag of $10 million, and sites would pay a tax of 25 percent.