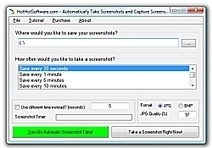 A screenshot is simply a picture of whatever happens to presently be displayed on a screen. This picture can then be
saved and referenced at a later date. The screenshot captures any images currently displayed on a screen but does not
necessarily capture everything. What this means is that if you are observing a webpage that spans several pages and requires
scrolling, the screenshot will capture what you are presently viewing but will not have the scroll ability to see the entire webpage.
Screenshots have transcended from general computer use to tablets, smartphones, and mp3 players.