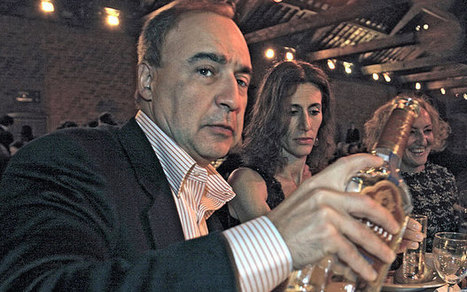 Leonard Blavatnik, left, is a Ukrainian-born American businessman
A fortune of £100 million is now required to make it into the top 1,000
The combined wealth of the 1,000 richest men and women in Britain has more than doubled in the last ten years, according to the Sunday Times Rich List.
The wealthiest 1,000 individuals and families now have a combined fortune of £547.126 billion, up from £249.615 billion in 2005, despite the world economy being gripped by a punishing recession over much of the last decade.
Plain old millionaires increasingly struggle to count themselves among the mega-rich, with a fortune of £100 million now required to make it into the top 1,000.
That is £15 million higher than last year's minimum, while in 1997 it took a personal wealth of 'just' £15 million to make the grade.
The list includes 117 billionaires, up from 104 last year. They account for a total wealth of £325.131 billion and 80 of them are based in London. It means the capital has more sterling billionaires than any other city in the world.
London-based Ukrainian businessman Len Blavatnik, whose empire includes the Warner Music Group, is named the wealthiest man, with an estimated fortune of £13.17 billion.
He jumped from fourth last year after seeing his wealth rise by more than £3 billion, according to the list.
(...)