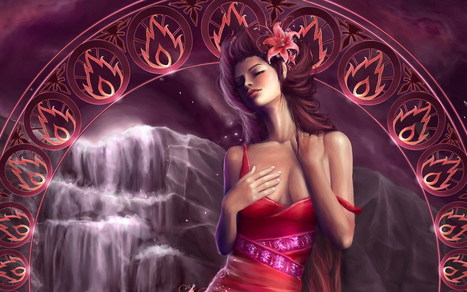 In the earliest prehistoric period Astghig, commonly referred to as Astlik, had been a patron for fertility, love, maidenly beauty, and water sources and springs....Later the skylight had been considered her personification, and she had been the wife or lover of Vahagn...
Her name is the diminutive of Armenian astġ, meaning "star", which through Proto-Indo-European *h₂stḗr is cognate to Sanskrit stṛ, Avestan star, Pahlavi star, Persian sitara´, Pashto storai, Latin and Italian stella and astro, French astre, Spanish astro, German stern, English star, etc...
Among all the Semitic beings which found their way into the Armenian pantheon, none attained the importance that was acquired by Astghik, especially in Tarauntis.
In spite of the presence of Anahit and Nana--two goddesses of her own type and therefore in rivalry with her--she knew how to hold her own and even to win the national god Vahagn as her lover.
It is now impossible to reconstruct the mythos that was at the basis of all this. It may be that we have here the intimate relation of a Syrian Ba'al to Astarte.
It may also be that the mythos is purely Greek and reflects the adventures of Ares with Aphrodite, for Astghik was called Aphrodite by Hellenizing Armenians...
Hoffman recognized in the Armenian name Astghik (which means "little star") a translation of the Syrian Kaukabhta, a late designation of Ashtart (Ishtar) both as a goddess and as the planet Venus. The latter is no more called Astghik by the Armenians, but Arusyak, "the little bride," which is an old title of Ishtar, "the veiled bride," and shows that the Armenians not only identified the planet Venus with their goddess Astghik, but were familiar with one of her most important titles...
In view of their essential identity it was natural that some confusion should arise between Astghik and Anahit.
Supportive Resources:
See Anahit:
See Ba'al:
See Ishtar:
See Ares:
Post ImagE: http://bit.ly/1q8E2Ie