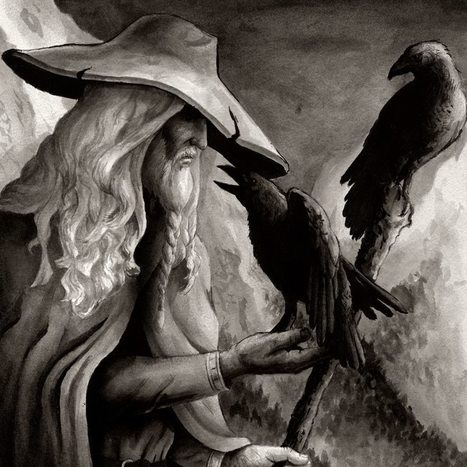 Huginn ("thought") and his sidekick, Muninn ("memory"), are not gods in Norse folklore; they aren't even angels...
They are ravens with symbolic names, and the pets of a powerful Odin...
Each morning Odin sends forth these raven and they fly over the earth.
At night they return and sit on his shoulders to tell him what they heard and saw.
Odin relied heavily on these winged masters to act as his eyes and ears over the great domain he ruled...
http://bit.ly/12i7oYE
The Eddic poem Grímnismál describes them thus, from the perspective of Odin:
Hugin and Munin
Fly every day
Over all the world;
I worry for Hugin
That he might not return,
But I worry more for Munin...
http://bit.ly/12i7m2R
More:
http://bit.ly/12i7m2R
http://bit.ly/12i7oYE
http://bit.ly/Wh1YJ3
http://bit.ly/qa8b
See Odin:
http://bit.ly/T73NqQ
Post Image:
http://bit.ly/TosOyj