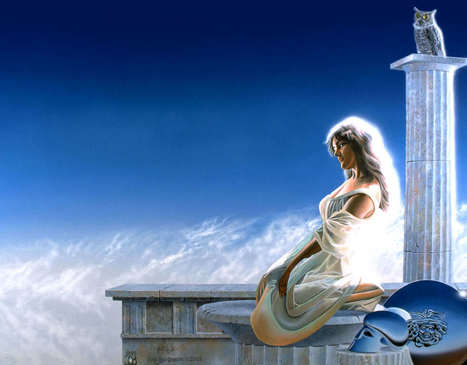 Metis in Greek folklore is the Titan generation and, like several primordial figures, an Oceanid/Okeanides (three thousand goddess Nymphs who presided over the sources of earth's fresh-water, ranging from rainclouds to subterranean springs and fountains) , in the sense that Metis was born of Oceanus and Tethys, of an earlier age than Zeus and his siblings...
Metis is the first great spouse of Zeus...
Metis presided over all knowledge. This Titan is the goddess of good counsel, advise, planning, cunning, craftiness and wisdom.
She functioned as the counsellor of Zeus during the Titan War, and devised the plan which forced Kronos to regurgitate his children.
She is the mother of Athena...It may seem odd for Metis to have been pregnant with Athena but, never mentioned as her mother...
Zeus became concerned over prophecies that her second child would replace Zeus.
To avoid this Zeus ate her. It is said that she is the source for Zeus wisdom and that she still advises Zeus from his belly.
More:
Post Image: http://bit.ly/UXzJlU