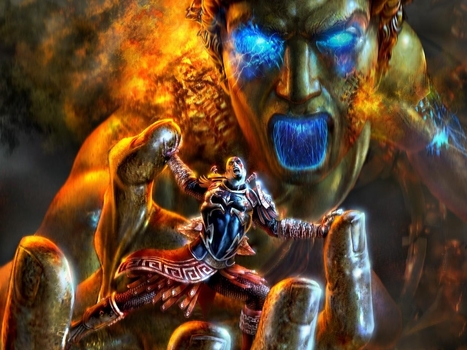 Ninurta is the Sumero-Babylonian god of rain, fertility, war, thunderstorms, wells, canals, floods, the plough and the South Wind.
Son of Enlil and Ninhursaga, he started off as an eagle and then asked his mum for a lion's head. But this made him aggressively unruly, so she left his wings and gave him a humanoid body.
It didn't do any good. What he liked was playing with thunderbolts and shouting war cries and smashing and killing anything he felt like...
Ninurta slays each of the monsters later known as the "Slain Heroes" (the Warrior Dragon, the Palm Tree King, Lord Saman-ana, the Bison-beast, the Mermaid, the Seven-headed Snake, the Six-headed Wild Ram), and despoils them of valuable items such as Gypsum, Strong Copper, and the Magilum boat...
He has a magic weapon known as Sarur and a doubleedged scimitar. Some say that these weapons, Sarur and Sargaz, were cyclones which he controlled. Eventually, Ninurta killed Anzû ivy these weapons...
More:
http://www.encyclo.co.uk/define/Ninurta
See Pap-nigin-gara:
http://sco.lt/7Mcbzd
See Anzu:
Post Image: http://bit.ly/TeZMyj