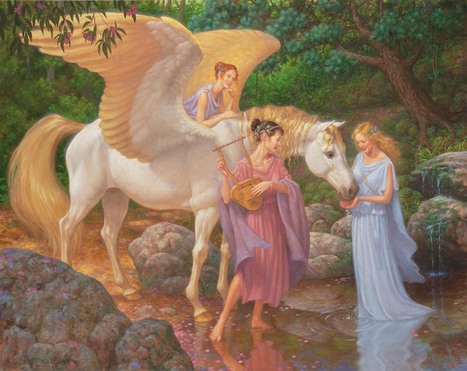 Horae are the goddesses of the seasons and prosperity and guards of the Gates Mount Olympus, the god's home in Greek folklore...
They presided over the revolutions of the heavenly constellations by which the year was measured...
The number of Horae varied according to different sources, but was most commonly three, either the trio of Thallo, Auxo and Carpo, who were goddesses of the order of nature; or Eunomia, Diké, and Eirene, who were law-and-order goddesses.
They reflected the three forces at work in the cycle of nature. Thallas, the goddess of spring was the bringer of the flowers, a protectress of youth.
Auxo was the goddess of the summer and the growth of the crops.
Carpho was in charge of the autum, the ripening of the fruits, the harvesting.
"They bring and bestow ripeness, they come and go in accordance with the firm law of the periodicities of nature and of life", Karl Kerenyi observed: "Hora means 'the correct moment'."
More:
See Dike:
Post Image: http://bit.ly/PtgtFd