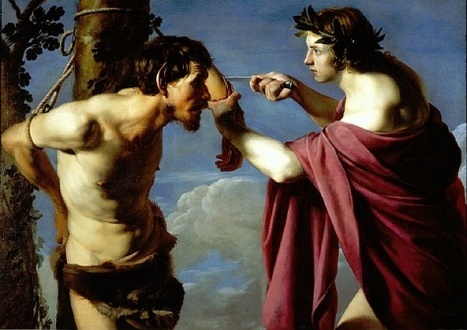 The son of Zeus and Leto, and the twin brother of Artemis, and brother of Dionysos; Apollo is the Patron of the Arts, the gift of prophecy and also connected with light (llumination) in Greek folklore.
He was born on the island Delos by Leto, a Titan's daughter, and Zeus.
Apollo is one of the most important and complex members of the 12 Olympians of the Greek pantheon...
The island was to be the most sacred of islands, and ruins of many temples can still be seen there.
His sister was Artemis, the goddess of hunting and protecter of young women...

After he killed the huge snake Python of Delphi by the mountains Parnassus, the site was dedicated to him....
The death of the Python filled Apollo with joy, so he happily took his lyre and started playing a song of victory, giving joy to people all around.
This was the moment where Apollo became the god of the Music.
Right after he finished his song, Apollo took the creature and buried it under the slopes of Mount Parnassus...
One day, Apollo was teaching Hyacinthus (the son of the Muse Clio and the King of Macedonia Pierus) how to throw the discus and, on his striving to impress his lover, Apollo threw the discus with all his force.
Immediately, Hyacinthus tried to run after the discus, but was unfortunate enough to get struck by it and injure himself severely!
Despite Apollo's effort to save the young man's life with herbs, in the end the young man passed away.
Apollo never got married, but there once came a time when he got very close to marriage. This story happened in Aetolia, in West Greece, with the beautiful princess Marpissa:
Eros hit his heart and Daphne's heart with his arrows of passion.. Apollo's love for the nymph Daphne, who fled from him and was transformed into a laurel tree, was exceptional....
Resources:
See Dionysos:
See Helios:
See the Ourea:
See Delos:
See Kabeiroi:
Post Image: http://bit.ly/OGHtUR