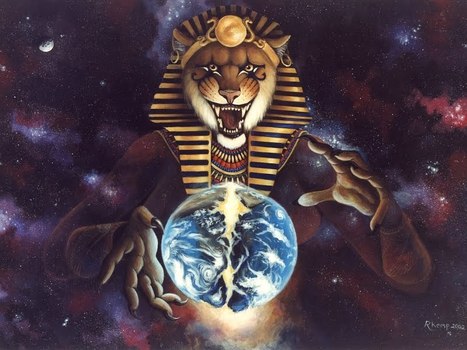 Sekhmet is a significant entity in the Ancient Egyptian pantheon, the Crone aspect of the trinity of Hathor-Bast-Sekhmet...
The Egyptian word "Sekhem" (which means "power" or "might") and is often translated as the "Powerful One".
She represents the scroching, burning, destructive heat of the sun...
Sekhmet is the fierce goddess of war and Vengeance, the destroyer of the enemies of Ra and Orisis, althrough it is argued that Sekhmet is much older than Ra.
It is told that she "came to Egypt from a place unknown and a time unrecorded" (Masters) as shown by some of her titles...
She bears the solar disk and the Uraeus which associates her with Wadjet and royalty...
Sekhmet was often closely associated with Hathor (the goddess of joy, music, dance, sexual love, pregnancy and birth). In this partnership, she was seen as the harsh aspect of the friendly Hathor...
Having once unleashed her powers for the destruction of mankind, the Ancient Egyptians feared a repeat performance by Sekhmet....
The Egyptian people developed an elaborate ritual in hopes she could be appeased.......
More:
http://en.wikipedia.org/wiki/Sekhmet
See Bastet:
See Ammit:
See Tefnut:
Post Image: http://bit.ly/LWoYvl