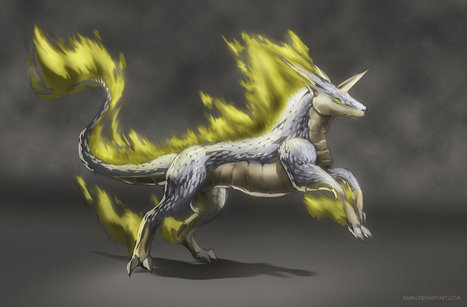 Qi-Lin is a fabulous creature that sometimes referred to as the Chinese Unicorn.
It's a splendid beast with the body of a deer, the the hooves of a horse, and a long elegant horn...
According to legends, it is one of 9 sons of a dragon, which can distinguish between good and evil.
It is sometimes included in the list of four noble animals, along with the Chinese dragon, phoenix and tortoise - instead of the tiger.
The advent of a great sage was made known when a qilin appeared to the pregnant mother of Confucius (6th century bc).
The qilin thereupon coughed up an inscribed jade tablet that foretold the future greatness of the unborn child.
The death of Confucius was foreshadowed when a qilin was injured by a charioteer.
More:
See the:
Pegacorn:
Unicorn:
Indian Cartozonon Cartazoon:
Pegasus:
Post Image: http://bit.ly/MOrKl8