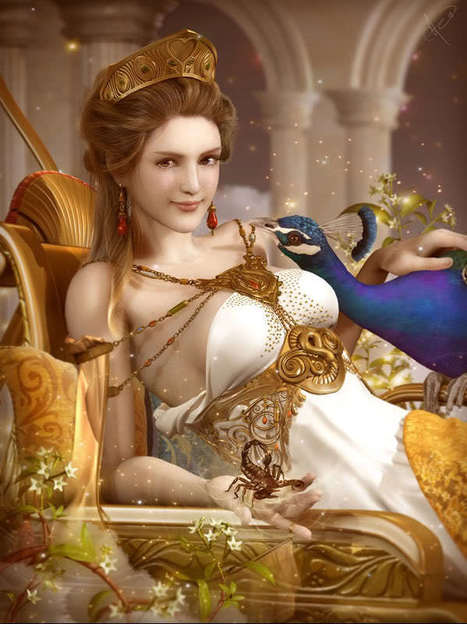 Hera is the Olympian queen of the gods.
She is the wife and one of three sisters of Zeus in the Olympian pantheon of Greek folklore.
She is considered a protector of love, marriage and a patron of women.
Hera, like her siblings, was swallowed by her father Kronos as soon as she was born.
Zeus with the help of Metis later tricked Kronos into a swallowing a potion that forced him to disgorge his offspring.
Hera used to show terrible jealousy of and revenge against Zeus's numerous lovers...
Hera's counterpart in Roman folklore was the goddess Juno.
The assisting of the Argonauts:.. In their quest for the golden fleece, their leader Jason being one of her favourites...
Hera assisted the Greeks during The Trojan War...
Extra:
http://en.wikipedia.org/wiki/Hera
Post Image: http://bit.ly/Nl2L7D
See Rhea:
http://sco.lt/4j2aeH
See Ares:
***Picture of Hera as last seen through a universe traverse....:

See Hephaestus:
http://bit.ly/VIkjfW
See Hypnos:
See Nyx:
See Dionysos: