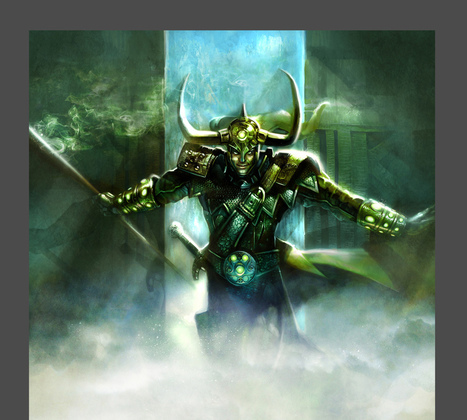 The Loki of Asgard in Norse folklore is the spirit of mischief, deceit, and lies.
'He is connected with fire and magic, and can assume many different shapes (horse, falcon, fly); a talent he'd developed to make him the shiftiest transmogrifier of all time — from flea to fish to fast flying feathers'...
This cunning trickster who is also a symbol of recreation usually accompanies or does a deed for Thor.
See Thor:
The companionship of these two is no mistake.
To punish Loki, the gods captured two of his sons, Narfi and Vali. They turned Vali into a wolf and let him tear his brother Narfi to pieces.
They then took Narfi's intestines and used them to tie Loki to rocks in a cave.
A giantess named Skadi hung a great snake over Loki's head, and when its venom dripped onto Loki's face, it caused terrible pain.
Loki would twist in agony, causing the whole world to shake.
It is said that Lokiwill remain in that cave until Ragnarok, the end of the world, arrives.
Extra:
See Heimdall:
See Odin:
See Thor:
See Magni:
See Idun:
See Jörmungandr:
See Hel:
http://sco.lt/58uY7d
Post Image: http://bit.ly/JItWf7