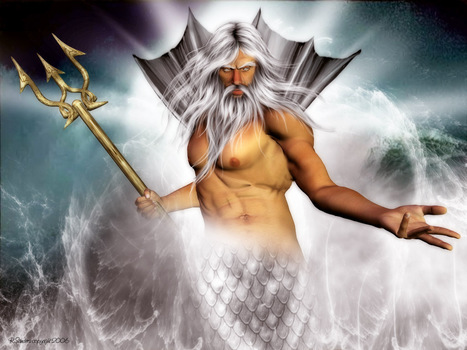 Poseidon rides a chariot that is pulled by a hippocampus or by horses that could ride on the sea.
He lived in a palace on the ocean floor, made of coral and gems.
In the Iliad Poseidon favors the Greeks, and on several occasion takes an active part in the battle against the Trojan forces.
His weapon is a trident, which can shake the earth, and shatter any object.
He is second only to Zeus in power amongst the gods in Greek folklore.
He has a difficult quarrelsome personality.
He had a series of disputes with other gods when he tried to take over their cities.
Resources:
http://en.wikipedia.org/wiki/Poseidon
See Rhea:
http://sco.lt/4j2aeH
See Hades:
See Hestia:
See Scylla and Charybdis:
See Gaia:
See Neptune :
See Bangpūtys:
Post Image: http://bit.ly/a1RFHu