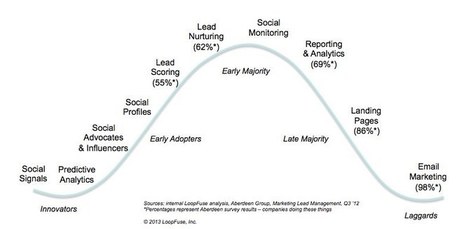 The Mouth of the Funnel blog is brought to you by LoopFuse - the leader in on-demand Sales and Marketing Automation.
Excerpt...
Key takeaways:
1. Most marketers, at this point, understand that email marketing must be part of their playbook. Newsletters, bulk email campaigns, etc.
2. As you work from right to left, capabilities become more advanced and adoption becomes less so. This is the land of lead nurturing (rules based email campaigns), lead scoring, and dipping into the land of social media.
3. Innovators are trying and seeking tools that allow them to better identifies "signals" of demand and want to used advanced analytics to tap the promise of predictive data.
4. We cover this curve from end to end including our ability to do email campaigns to our Nearstream social campaigns pieced designed to identify and engage around social demand signals. We are doing some additional things around activity streams and predictive analytics that will see the light of day soon as preview features.
___________________________________
-Receive a FREE daily summary of The Marketing Technology Alert directly to your inbox. To subscribe, please go to http://ineomarketing.com/About_The_MAR_Sub.html (your privacy is protected).
-If you like this scoop from The Marketing Technology Alert (brought to you by iNeoMarketing), PLEASE share by using the links below.
Via
marketingIO