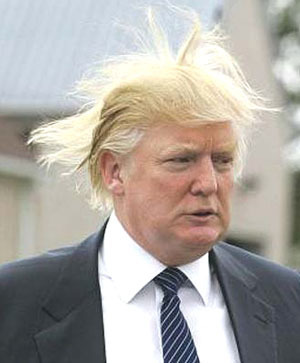 Apparently, Donald Trump has proclaimed himself an "ardent philanthropist." The Smoking Gun begs to differ.

"How miserly is The Donald?

From 1990 through 2009, Trump has personally donated a total of just $3.7 million to his foundation, which was incorporated in 1987. In fact, the billionaire is not even the largest contributor to his own charitable organization.

Tax returns show that World Wrestling Entertainment has given Trump's foundation a total of $5 million in return for the developer's assistance in working a couple of televised angles along with WWE boss Vince McMahon. The WWE gave Trump's foundation $4 million in 2007 for his help in promoting that year's WrestleMania festivities, and another $1 million in 2009, when Trump (pictured below with McMahon) pretended to purchase part of the WWE empire.

The real estate titan's foundation has also banked $205,000 from media outlets and supermarket tabloids in return for exclusive photos (People magazine, for example, paid the foundation $150,000 in 2006 for the first shots of Trump's newborn son Barron).

During the past two decades, the Trump foundation has made charitable contributions totaling a paltry $6.7 million.

Both the amount of money Trump has donated to his own foundation as well as the aggregate contributions made by the not-for-profit group are pitiful when compared to the philanthropy of other high-profile tycoons like Bill Gates, Warren Buffett, Larry Ellison, Ted Turner, Michael Bloomberg, David Geffen, or S.I. Newhouse."