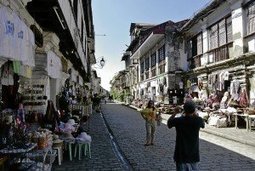 Filipinos like thinking that conservation in this country is in a sorry state, but 2012 was the year Philippine conservation efforts received global accolades.
In July, the World Heritage Committee removed the Rice Terraces of the Philippine Cordillera from the World Heritage "In Danger" list. The "In Danger" listing was a blessing in disguise. So was the cutting down of national support. It motivated the Ifugao community to take charge. At the World Heritage Committee Meeting of 2012 held in St. Petersburg in the Russian Federation, committee members applauded the Ifugao people as a rare and outstanding global example of community-led conservation.
In November, the Heritage for City of Vigan was awarded by Unesco as "Best Practice in World Heritage Site Management." Chosen over 28 other cities in 23 countries competing for the award, Vigan was declared winner because of its "good management practice in spite of limited resources, making [its example] adaptable in other countries."
Vigan is a global example that sustainable development can happen hand in hand with protection of entire districts of old buildings, which give the city its character.