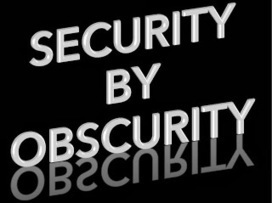 A recent research paper resurrects the idea of "security by obscurity." A notion I've been fighting for decades. (e.g. inThe Transparent Society: Will Technology force us to choose between privacy and freedom?).

The basic idea is that you will better thrive by hiding information from your foes/competitors/rivals, even if this accelerates an arms race of obscurity and spying, creating a secular trend toward ever-reduced transparency.

Now, I want to talk about a special case in which my objection - still strong in principle - is softened by pragmatic arguments.