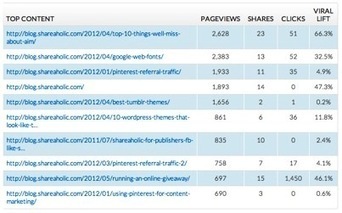 How to make your content more shareable and drive traffic to your blog.
Excerpted from article:
#1: Identify Your Most Popular Posts and Keywords:
Look at your top content and keywords in Google Analytics. If you're using a social sharing plugin like Shareaholic or Digg Digg, you may be able to get some free analytics on your most popular content that can help you learn what your audience wants.
#2: Track and Leverage Trends:
Know what is top-of-mind for readers.
Here are some free tools that will make your listening efforts more efficient:
- LinkedIn Today;
- Trendsbuzz;
- Know Your Meme;
- Google Insights;
- Hashtags;
- Topsy.
Once you've identified the conversations that are happening, you should think of a way to use that information for a shareable blog post.
#3: Think "Why Would People Share This?":
Only commit to your blogging ideas that show the promise of virality, and cut or tweak the ones that end up on the calendar "just because." Don't create noise, create value.
#4: Make the Most of Your Headline:
Think about the 4 U's that Copyblogger teaches us about great subject lines and headlines:
***Useful: Why is the blog post valuable?
***Ultra-specific: What can I expect to learn from the blog post?
***Unique: Why is this blog post compelling and unique?
***Urgent: Why should I read this NOW?
#5: Test Different Kinds of Promotion:
But in order to do this effectively, you've got to consider what visuals will go along with your social media promotion as you are creating the content.
#6: Optimize Your Content for Shareability:
You need to familiarize yourself with the anatomy of a social share.
Pay attention to the 3 highlight elements—the featured image, the page title and the meta description.
WordPress bloggers can install the All in One SEO plugin so that these components are in one easy-to-find place.
#7: Have Something Waiting for New Readers:
Include calls to action to subscribe to future posts. Link to previous content in your posts to keep readers engaged in your blog. Use recommended content widgets to increase your time on site and drive readers to related content and other popular posts.
Read full article here: http://j.mp/LLDEvr
Via
Giuseppe Mauriello