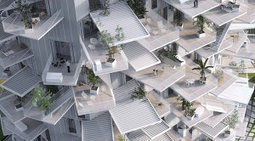 The new role, spurred by a challenge from the Rockefeller Foundation, is aimed at building more future-proof cities.
Over a year and a half after Hurricane Sandy hit New York, thousands of people still aren't back in their homes. Months after Typhoon Haiyan hit the Philippines, the city of Tacloban still doesn't have electricity. What does it take for cities to have the capacity to bounce back quickly after disasters, especially at a time when climate change is making major disasters much more likely?
Part of the answer, perhaps, is a job that's never existed before: Cities are beginning to hire chief resilience officers. The role comes as part of the Rockefeller Foundation's 100 Resilient Cities Centennial Challenge, which is putting $100 million into helping build future-proof cities; for the selected cities, a salary for a chief resilience officer is part of the prize.