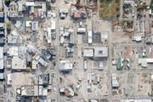 These two words are used liberally to describe something that actually doesn't exist at the moment. This was highlighted in a report published recently that noted "...there are no examples to date of cities launching fully-integrated, strategically-designed, smart city development programmes." [1]
What does exist is a lot of marketing hype about the potential for cities to embrace technology driven visions. This hype is also a source of contention among informed commentators who take issue with the phrase "smart city."
For a city to be smart implies that there is some central control that is analogous to the human brain. However cities are massively complex systems and the ability to control such systems is notoriously difficult, if not impossible. ...