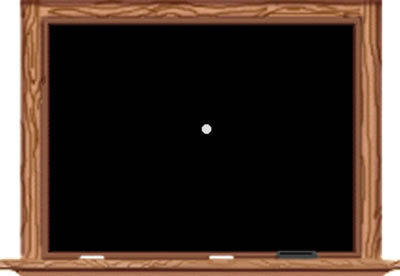 Imagine that I wheeled a really big blackboard in front of you, drew a white dot in the centre of it, and then asked you, "What do you see?"
What would you reply?
Probably ninety-five percept of us will say, "I see a white dot".
But what about the blackboard? Such a big blackboard and yet we focus on a white dot.
Why?
Because this is the pattern of the mind: We are accustomed to looking at the figure not the background.
It is this fascination with the trees instead of the forest that can blind us to a far greater awareness of reality.......we seem to have a real problem with seeing the bigger picture. We will see clouds and not the sky; see individual life 'forms' instead of feeling the Presence of life itself; recognise thoughts instead of the Consciousness that all thought arises in; and focus on specific news, 'good' or 'bad', without recognising the one perfect process of Self-realisation that is always going on in the background.