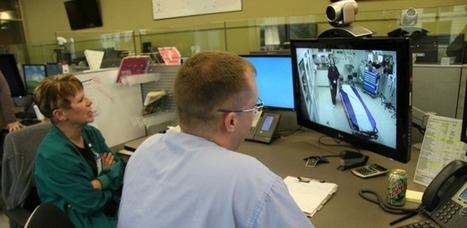 In South Dakota, long-distance doctoring is bringing health care to rural communities.

(...) "But when the call comes in the middle of the night, with the push of a button -- mounted right on the ER's wall -- the nurses on-duty are able to connect with ER doctors in Sioux Falls, who have been waiting, in their patient-less hospital, for their call.

Avera Health Network is believed to have the only long-distance critical care center in the U.S., and possibly the world. Based at Avera Mckennan Hospital, the nonprofit provides a range of "telemedical" services that take advantage of technology -- including high-definition two-way video consulting -- to make it possible for experts to be available 24/7 in locations throughout South Dakota, North Dakota, Minnesota, Iowa, Wyoming, and Nebraska.

Their four main services -- eConsult, eICU Care, eEmergency, and ePharm -- are set up to provide resources and support to the 10 percent of America's doctors currently serving the 25 percent of the country's population that resides in rural areas. As the rural population ages -- the proportion of people over the age of 65 is about 72 percent higher in South Dakota than the rest of the U.S. and is expected to double by 2020 -- the need for easy access to high-quality care will only increase.

"If you think about, there's an awful lot of medicine that is just done through visualization of X-rays, looking at the chart, talking to the patient, making assessments, writing prescriptions," said Fred Slunecka, COO of Avera Health. "There's an amazing amount of care that can be done that way." The Avera team calls this "hands in pocket doctoring." Of course, physical hands are needed to carry out virtual orders, and real doctors and nurses are always on hand to provide that. But even IRL (in real life), crisis situations require someone at the head of the room, keeping tabs on everyone and calling the shots. In emergency situations, where every second counts, the long-distance physician is able to be in the room an average of 14 minutes sooner than the local doctor.

The doctors back at the hub spend their time monitoring ICU patients -- they have virtual access to 60 percent of the beds in South Dakota. Pharmacists are on-hand to review prescriptions, make sure doctors aren't missing any allergies or medical history, and keep them abreast of the newest recommendations and standards of care.

"The magic is being able to see into room," said Jay Weems, the executive director of eCare. "But the bigger magic, we think, is the people are on both ends -- in the rural community and in the hub -- that support each other and work together as team, as medicine is meant to be practiced."