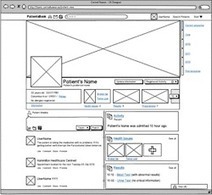 Facebook-like EMR In 2008, Bob Watcher wrote an article called "Why the medical record needs to become more like Facebook" where lay down the idea of having the social network as the mirror for a new...
(...) "A Design Proposal
Users & Profiles
If a clinical solution would need to completely work like Facebook, every user (physician, nurse, etc.) would have their own user porfile. However, the analysis of having a EMR looking like Facebook timeline suggests that the profile page is planned to show only patient data. Why would we need to see a nurse profile, then?
Following this idea, the Home page would be reserved for (primary) users and the Profile pages for showing the electronic medical records of patients (secondary users).
A possible extension would be allowing the access to the EMRz by Patients, so they could also check their own EMR online by themselves. In this case, we could consider them as secondary users not as part of the network community, but just to contribute to their own medical history and keep a direct communication between them and they're care providers.
Social network
Social activity will be generated by clinicians considering patient-centred documentation based on Profiles. As suggested before, there are two main social groups: the one created by clinical staff only, and the one where patients and clinicians would interact." (...)
CE: Super interesting: how social media platforms are influencing the design of Electronic Medical Records, and thus the channels through which doctors and patients communicate about the patient's health information.